COMMENTS:
Dutch chicks!
---
This is a double ballot.
---
China of course.
---
and then Korea, or maybe the Aboriginals of Australia.
---
And this is starting to be an irritating comment One_Dollar...
---
Honestly I think it's Chezch republic.They are beautiful.Then Danish.Swedes are way too overated I think.
---
Ever seen Syrian girls? STUNNING. Absolutely amazing.
---
Italian women.Not so crazy about the men though.
---
Lebanon or Greece
---
Swedes are not overrated though. They are a close 3rd.
---
The Philippines has by far the most beautiful looking and the most wonderfully friendly people.
---
venezuela
---
Brazil has some amazingly beautiful women with GREAT bodies, but there are quite a lot of ugly people there too. It's pretty diverse.
---
The Swedes are perfect, but the Welsh and the Irish are surprisingly beautiful too. (dark curly hair and vivd blue eyes)

However, the Italians are the best dressed, and because of this fact alone are therefore the sexiest.
---
americans.by far(I am not American)
---
There are good looking and ugly people in every country and everything in between. This is a completely subjective question, beauty is in the eye of the beholder.
---
America. Most the foreigners have hair pits and don't shave their legs. Why do you think when guys from other countries come to the US, they try smelling your armpits. And say, America women good yea! They stink.
---
China and India - without any doubt as we've got more people anyway. Nananah!
---
Turkish girls are the best!
---
You are a very sad and ignorant person Meegan.

BTW, Seden, Denmark and Norway have all very similar peoples. We are all Nordic.
---
European countries!!
---
Scotland!!!!!!!!!
---
"have hair pits and don't shave their legs" ~ Meegan

Like you then, ignorant bitch? Just because you are an ugly jealous ho you don't need to insult other nations, spak-brain.
---
Richarddx, I've been flipping throuough the surveys and I notice that every single thing you've posted has been abusive! You should correct you're own ignorance about foreign countries before criticizing others, her comments are less offensive than most of yours.
---
My god, haven't you guys ever seen a Portugeese chick their so f***ing HOT!!!
---
Travel before you make the decision. It's not ethnicity or race that makes the beauty decision. It's a host of intrinsics that govern the matter.
---
NEW ZEALAND
---
i have to say that th eus won by a long shot on this ballot. You have to add the USA since it is two choices plus the confederate states.
---
Voted : equal among all nations
It would depend on what you mean by beautiful, every country has beautiful people and i would say it is equal among nations. It also depends on what you think is beautiful as i find most girls that are concidered pritty are usually ones that are plastered in make-up, unfortunatly beauty comes out of a bottle and it is hard to find a girl or woman now that is naturally beautiful without the make-up, i personally find a girl who wears a lot of make-up unattractive and shows me that they have something to hide.

I agree with Truthseeker013 on this. It is not right to say that one country has better looking people than everyone else, have you met the other 5,999,999,999 men and women in the world? To say that your nation has better looking people is no different to what the Nazis were saying about being Aryens IMHO.
---
The Filipinas in the Philippines are the hottest among all asian races.. tight..!
but still american women are the best...
---
its gonna be philippines. they are very hospitable and loving people
---
what? USA? hello? this is a country where discrimination is great. then you are telling me now they are beautiful people. absolutely, no. if you are a non-white, you'll experience the "kindness" of the Americans.
---
who the hell will any one ever pick rusia rissian chicks are nasty
---
who the hell will any one ever pick rusia rissian chicks are nasty
---
lebanon indeed!
---
wife_of_clown the US is not that racist you fool. It used to be but things have changed.
---
the best country in the world
---
ofcourse Argentina- are you people blind?
---
obviously ethiopia!
---
Where's Japan? Now there are A LOT of hot japanese guys!
---
def. Israel. the cultural mixture made the hottest woman there!!! :)i think most of the guys traveled Israel with me will agree
---
Israel!? whatta hell?
---
Where you can find the most beautiful People? It is absolutely in PHILIPPINES! Why? Because physically they had an exotic-lovely beauties! and Emotionally, they are the most friendliest and hospitable, kind-hearted people! for me PHILIPPINES is the BEST COUNTRY where you can find Beautiful People!
---
Voted : India
not all indians but people from Himachal Pradesh!!!!!!(an indian state, it's totally different from india but a real picture of india i.e the heaven....)
---
the state of HImachal Pradesh(the state is in India, But not like rest of India, it's a HEAVEN.... has Beautiful people
---
jews!!!
---
Voted : KOREA
korean women's are the best and beautiful
---
what about Bhutan

---
Voted : Italy
GREECE of course! we r the most beautiful along with the italian ones!
---
Voted : India
India has the most beautiful girls.
Jo
Australia
---
Voted : Turkey (you cannot exclude that)
becuz i love a girl from turkey and in my eyes she is the prettiest ever.
---
definitely Slovakia + Czech republic... no doubts!
---
the lebanese people are the most beautiful people
---
south africans and australians are gorgeous!!
---
None of the middle eastern women they most of them have a big nose and look have men features.
---
Voted : KOREA
canadas not on here!
canada most defintly has the most beautiful people.
:)
---
Voted : Syria
Syrian ppl are great and so beautifull
---
This poll is totally wrong.I think Latin American women are the most beautiful women in the world.
---
Voted : czech
I think every country has beautiful people and chances are most people just vote for their own country. But (coming from and Australian) I think from what ive heard especially by Europeans I would say

1.Sweden
2. Brasil
3. Czech Republic
4. Poland
5. Australia
---
greece
---
A various and beautiful nation
---
Russian women are most beauful women in the world!
---
Voted : The Philippines
philippine you knockle heads
---
Voted : Israel
mixed-race jews= mixed-race pretty
---
Voted : New Zealand
beauty is inner personification of a individual so in that caseindia is the best country to have the most beautiful people becauseof the culture and serinity it has.all indians around the world famous,rich,poor whatsoever depicts beauty.
---
Philippines for me.. exotic, hot and sexy!
---
How disgusting.

These girls are most likely going to pump out at least a dozen kids each.

I bet their personal hygiene is a bit suspect and they are probably prone to crime too.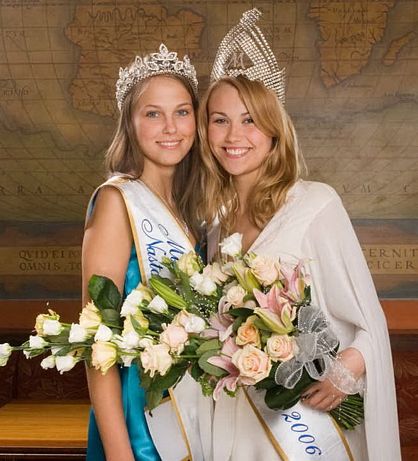 ---
Can we get the winner of this ballot to send over some "refugees" to thin out their ranks? Our eyes would all be a lot better off.
---
I would have to say Turkish and Romanian. I've seen tons of beautiful Turkish women so that for sure should be somewhere near the top and as for Romanian. I've been there and I know a lot of Romanian girls and not one of them are ugly, they are all extraordinary beautiful it's just that they are not widely known but if they were, Romania would surely be up higher on the list. As for American's. American girls are too fake and try to hard to make themselves look pretty yet they fail at achieving that and only make themselves look slutty. American girls act really slutty too. Not all but a lot of them do. All the naturally pretty American girls I know have immigrated from other countries when they were young so I rest my case. I'm sure there are some naturally pretty girls in the U.S. though just not as much as other places. Hope this doesn't offend anyone since I too am American.
---
Voted : equal among all nations
After meeting and seeing many different people from many places, I've decided that no SINGLE country has the most beautiful, and that the most beautiful from each country would probably be close equals. That being said, the most gorgeous (no specific races) are usually mixed people. And at the end of the night, make-up wipes off. Plastic surgery is the problem. Kids and teens are holding themselves to a standard that doesn't exist in nature because of it.
---
PHILIPPINES!
---
italy, spain, jews
---
cambodia

dry here. you could chew a nuns nasty through a shithouse door
---
Voted : Mixed Internationals - most beautiful of all
Mixed. Most beautiful, and often healthiest, on the entire planet simply because all those old recessive defects get tossed away in the mix.
---
u should add the votes!!!

The Philippines 295
Philippines 76
---
Voted : iran
Persian Girls are the hottest girls in the world. Only 2% vote??!!! that's BS..Iranian people both girls and guys are soooooo superr beautiful..youdon't believe me go on youtube and see a sample of them...
---
Voted : Serbia
Definitely Serbia. I have never met a Serb who isn't way hot. That is also true for most of the balkans. Since I am Italian, I also think that we have hot chicks. But they are number one. SRPSKI DEVOJKE SU LEPE!!!
---
unfair double ballot in Philippines--the philippines and philippines ?? what's that??
---
I say these are my ones USA,CANADA,ISRAEL,RUSSIA,COLOMBIAN,BRAZILIAN,ITALI AN,GERMANY,IRAQ,GULF STATES,PALESTINIAN too name a few in my books.
---
FRANCE
CHINA
PAKISTAN
GERMAN
AMERICA
---
Voted : France.
France, hands down :)
---
Voted : Canada
I am sure everybody is different to a Degree. These tend to be my Top 10 favorite Nationalities of Women but I could be wrong even by my own standards. Some of my favorite all time Women have had a German-Irish mix in them that are Bodybuilder's with bigger than average Arms and Chests! 1 Germany 2 Canada 3 Ireland 4 Sweden 5 Hungary 6 Norway 7 Czech Republic 8 Lebanon 9 Brazil 10 Italy
---